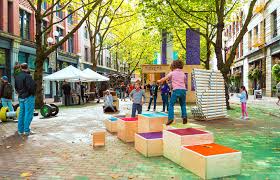 This week we deal with Tactical Urbanism (TU), a methodology, urban approach, and movement which promotes low cost, small scale, collaboratively-led interventions. In Miami, when Tony Garcia, architect, speaker, writer, and advocate in the field of pedestrian and bicycle infrastructure, realised that the large-scale and expensive projects he was working on did not go ahead, he started conceiving Tactical Urbanism projects and framing the Tactical Urbanism methodology, along with Street Plans Collaborative team. TU was meant to be a methodological tool to address citizens' needs which the government was not responding to.
TU approach sees short term, low-priced and scalable interventions as key to build long-term change. This method is used by actors of the Quintuple Helix including governments, businesses and nonprofits, citizens groups and individuals. Stressing the necessity for collaboratively-led processes, the TU guide (accessible online here: http://tacticalurbanismguide.com/) provides an iterative process delivery, differenciating phases/types of project: demonstration, pilot, interim-design, long-term capital, and illustrating the approach with case studies. The guide, giving advice on how to start a project from scratch supports any actor willing to bring about long-lasting urban change. If you are motivated to start building street furniture, crosswalks or cycle paths, have a look in the guide where you will find plenty of examples !
Over the last years, Tactical Urbanism has become an international movement transforming the way communities apprehend urban development projects, fostering different types of project (e.g community gardens, plazas, parks, streets etc). Whether in Argentina, where was implemented La Calle Recreativa, a 30 km free-car and free-moto tour in the city of Rosario (http://tacticalurbanismguide.com/guides/tactical-urbanism-volume-3/ in Spanish) or the Launceston City Heart aiming at re-vitalising Launceston city center through community consultation and prototyping (https://issuu.com/streetplanscollaborative/docs/tacticalurbanismvol4_141020), Tactical Urbanism takes various forms.
Labgov team wishes you a good weekend and remember: Act for change !