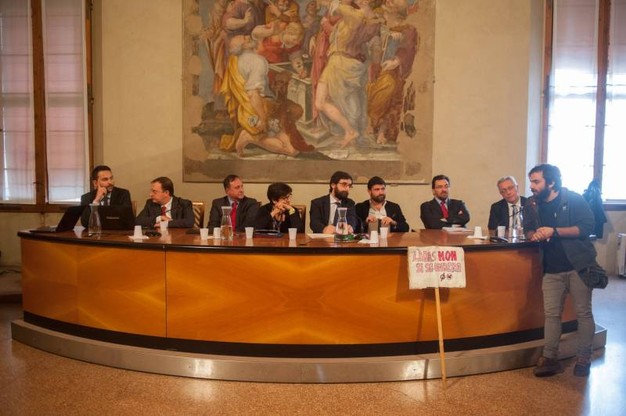 The Italian scene of activism for the commons increasingly often sees local communities getting organized and starting real estate negotiations with public or private owners to transfer the property of important pieces of real estate in communities' hands. A recent post on this blog presented the case of the Innesto Community Coop in Val Cavallina, Lombardia. The community coop launched a crowdfunding campaign to buy back from a public authority "La Casa del Pescatore". This is considered a critical facility for the local community for this is the place where many community activities take place. At the same time this facility is the means through which the micro-economic activities that guarantee the economic sustainability and therefore the social impact produced by the community coop are run.
There at least two similar experiences in Italy. They are carried out in Rome by the Co-Roma project and in Milan by Macao. There might be more cases and we would be happy to discuss this kind of commons-based real estate transactions on our blog more and more if our readers know of similar cases. We have seen this happening also abroad in difficult contexts like in New York City with the REIC and in Germany with the Mietzhauser Sindakat.
We will focus here on a brief description of the Macao experience in Milano. We will then suggest this approach could be a possible strategy for contexts that are facing similar issues in Bologna, where the Làbas collective was recently evicted by the police from an abandoned former barracks and in Mondeggi, Tuscany where the Mondeggi as a Commons initiative gathers a diverse network of organic producers, farmers, professors, architects, students and active citizens who want to oppose the selling out of public heritage in favor of private investors, and propose to the City as an alternative to privatization the civic use of the whole property.
The Macao experience
The Macao experience was initiated by a group of artists and creative workers, part of the "Lavoratori dell'arte", Art Workers movement in 2012. Macao blossomed under the Mayorship of Giuliano Pisapia and the large coalition of left wing parties that he led, that succeeded at the local elections in Milan after decades of right-wing coalitions governing the City. The Macao experience initiated with the occupation of an abandoned skyscraper in the center of Milan, the "Torre Galfa". The group of activists, artists and creative workers were evicted some days after the occupation, but a few weeks later they managed to occupy and move into a former slaughterhouse, in Via Molise 12, were they are still based. In the initial phase of the path, thousands of people participated to the Macao activity. After the first months of activity, the participation considerably shrank to 120 people in late 2012. The building that Macao is currently occupying is publicly owned, and located in a semi-peripheral area of the city. The occupation is therefore illegal, but the City undertook a strategy based on tolerance and informality. In the early summer of 2014, the City of Milan set up a negotiation board to deal with City-owned abandoned spaces with a potentiality for social innovation purpose[1]. The aim of the negotiation board was to find ways to include even informal associations or autonomous organizations or collectives. Macao accepted to participate to the negotiation. However the dialogue did not produce substantial results. The intense dialogue with the City produced a draft of City Resolution, that takes inspiration from the Bologna Regulation on the Urban Commons with significant adaptation. The Resolution was not approved by the City Government in charge.
Picture from Zero: https://goo.gl/DLd4MC.
The building where Macao is currently based is formally owned by a publicly owned company, Sogemi S.P.A., and is part of a larger complex called Ortomercato. Sogemi board decided to sell the buildings contained in the area including Macao's headquarter. Macao therefore decided to implement a proactive strategy and proceed with the acquisition of the building, following the successful model of collective property adopted by the Mietzhauser Sindakat, a German reality. After manifesting their interest to buy the property to the City of Milan, who declared that they must proceed with a public contest, Macao launched a fundraising campaign for the acquisition of the building and constituted an open association, composed by individuals and other NGOs that want to contribute to Macao's activities. The bylaws of the association is available here.
The Mondeggi and Labàs cases
Could the experiences that we just described be a role model for other cases like Làbas and Mondeggi?


Picture from Fuori Binario: https://goo.gl/Q5M8Rw.
The Mondeggi Initiative was recently analysed on our blog. The Mondeggi Bene Comune initiative was born in 2013, out of the Florence Committee for Land as a Common Good (Terra bene Comune Firenze), with the support of Genuino Clandestino, in order to defend the principles of commoning on agricultural lands on the specific site of the Mondeggi farm, a 200 hectares territory situated in the Florence metropolitan region and owned by the Florence Province, who wanted to sell the farm because of a huge dept. a group of around 100 people immediately opposed to the sell the property and proposed biological agricultural projects in the farm. One year after the first manifestation of interest, in 2014, this community decided to occupy one of the colonic houses of the farm. Currently, 20 people are living in the farm and collectively manage it. Recently, the Committee issued a Declaration of Civic Use and proposed to the public actor to manage the whole Mondeggi Farm also launching a petition addressing public intellectuals and academics for supporting this initiative.
In the City of Bologna, the eviction of the Làbas collective from the former Caserma Masini, is stimulating a strong debate on active resistance and occupation of public buildings for social use. Làbas is the political collective that on November 13, 2012, occupied an abandoned military station of 9.000 squared meters, the former Caserma Masini on Orfeo Street n. 46, currently owned by the Cassa Depositi e Prestiti (the Italian Soveriegn Wealth Fund, hereinafter CdP). Since the occupation, Làbas regenerated the space and organized a wide set of activities, open to the neighbourhood and the whole city, ranging from political activity such as the campaign #iooccupo, #I occupy, a protest against housing policies of the City of Bologna, that also practice concrete fight against evictions and support realities that promote access to housing for vulnerable groups, also through illegal occupations such as the "Via Solferino 42", occupation of a building owned by the a Blind Institute, the Istituto Cavazza, that allows 20 families to access housing. Another core issue of Làbas is the migration crisis, that they address through communication activities and volunteering actions, social urban gardening and social economic activities.
Picture from Il resto del Carlino: https://goo.gl/eHAupH.
The Làbas collective recently started a dialogue with the City Government about the future of the space and established a "Comitato per la Tutela e l'Affermazione del''ex Caserma Masini Bene Comune", a Committee for the Care and Affirmation of the former Caserma Masini as a commons, that provides them with a legally recognised infrastructure with currently 700 members. In early August, the Làbas center was evicted and received manifestation of support from a wide array of social actors in the City. What is required for the civic and institutional actors involved in this situation for addressing it is to carry out an exercise of civic imagination, as stated by Matteo Lepore (deputy-mayor for economic development, the commons and civic imagination) that recently proposed for Làbas and other realities active in the neighbourhood to open a dialogue on the possibility to contribute to the regeneration and temporary reuse of the wide abandoned Staveco area, a former military area which is going to be destined for 85% of its space to social use. Also, declarations from the Mayor of Bologna Virginio Merola are open to the dialogue to find an alternative solution for Làbas. On September 9th hundreds of city inhabitants walked the streets of the city center in a peaceful parade aimed to ask the reopening of Làbas and its activities. The peaceful attitude of the participants contrasts the sudden and violent eviction of early August, showing the willingness to restore the pre-existing collaborative atmosphere with public authorities, that was abruptly and wrongly breached, also according to Lepore' opinion.
Buying back the commons
Is an alternative solution, meaning another building in another place, just good enough for real commons?
Commons is about the social process of commoning as many thought leaders and scholars say. And some of these collectives are not just simple collectives, but a manifestation of what we could call potential "commons enterprises". Some progressive cities like Bologna are adopting an approach to this kind of experiences that is definitely advanced compared to the average of Italian Cities. As a matter of fact, the institutional strategy to address illegal occupations so far has been two-folded: regularizations where the City Government was led by radical left wing or radical social right wing coalitions and evictions where the City Government was led by liberal, pro-market centre-right and sometimes also centre-left coalitions. Some cities like Bologna have chosen a third path, based on the recognition of the social value produced by those experiences and on a public-commons bargaining process, whereby such collectives in exchange for leaving an occupied space, the social reality involved would have been allowed to find an appropriate arrangement with the support of the City Government. However, even this third far-sighted approach still relies on a role of the local government as an intermediary and not as a platform or enabling actor[2]. Also, the local government exposes itself to the critique that in this way it incentivizes a sort of real estate market of occupations. Last, the political meaning of the urban commons initiative gets lost, generating a loss of social and cultural value produced meanwhile in that specific building not elsewhere.
If the commons want to succeed they need to fight with instruments similar to those that other economic actors use. So, a fourth path, definitely more challenging for both the city government, as well as Labàs and similar commons entrepreneurs, could be to enable them to buy the building. This is a strategy Iaione suggested in 2011. This option is already contemplated somehow by the Bologna Regulation on Civic Collaboration for the Urban Commons, but newer and more refined financing and regulatory tools have been developed meanwhile. Using these newer tools some experimentations on commons-based finance such as the Co-Roma experimentation, the case of Macao in Milan and "l'Innesto" Community Cooperative are carried out.
This strategy seems to be applicable, through a public-private-commons partnership, even to larger infrastructure like the Port of Capri which is facing far bigger risks and a more complex regulatory framework. The Masini Barracks – which according to a formal estimate is valued 12 million Euros on paper – is worth way less then its formal prices in the current market conditions and therefore it seems to be the perfect test bed for a commons-based financing operation. Maybe if the community was provided with the right expertise, it could definitely negotiate on an equal footing and further lower the cost of the deal to get it closer to a threshold that the community can reasonably afford[3].
Concluding remarks
Civic imagination might therefore be conceived not as a new episode of participatory democracy, but rather as that process through which social actors, individually and collectively, are enabled to challenge the ordinary bureaucratic rationality[4] and envision "better political, social, and civic environments and work towards achieving those futures"[5]. Also imagination is civic when it is concerned with society and not, for Instance, with individual aspiration. Civic Imagination should therefore be about transforming utopias, micro-actions, ideas, projects of collectives and active citizens into real "commons enterprises" and "collective institutions" to achieve a real "economic democracy"[6].
The role of the public sphere (bureaucracy and politics) in this game should change. Primarily, it should avoid any extreme repressive attitudes, understanding the added value coming from such initiatives. As Matteo Lepore recently stated: "while somebody has been busy for a long time placing traps along the way, thinking only in terms of formal rules and formal legality, everyone willing to walk towards the goal of a new policy on these issues have already taken a step forward down this path. We would no longer have this kind of problems, if we were able to turn city inhabitants needs into participatory paths and urban assets into opportunities open to everyone, in a city where there are still many abandoned spaces to be recovered and a third sector already very active and widespread. Over the next few weeks, through the Civic Imagination Office, we will move along this path".
Both civic and public actors have to change their attitude, adapting their role in order to find appropriate solutions, even through experimental initiatives.
City inhabitants must start thinking in a more entrepreneurial way. They actually have the duty to be entrepreneurial in order to adopt the most appropriate means to safeguard the commons from some backward-looking bureaucracies. Thus, there is also a liability towards future generations, which shall not be considered just as an ethical principle. It can be configured as a constitutional principle in Italy, pursuant to articles 2, 9, 67 e 98[7]. In this regard, the civic buy back of the commons could be a solution perfectly aligned with the new proactive role citizens have to play and successfully achieved in many countries, like in India or The Netherlands, aimed at the protection of the environment as well as other common assets. It is not new even for the Italian scene. Many civil society organizations like WWF, Italia Nostra, FAI, Legambiente, Libera have initiated similar projects investing in the regeneration and/or acquisition or management of common assets at risk. In this perspective, as the Macao collective has announced, it could be adopted the model created by the Mietshäuser Syndikat, a cooperative which manages the collective purchase of occupied properties. It practices the path of private law as a suitable tool for the buy back of the commons, so that the property is taken away from the logic of profit and commercial speculation.
Public authorities should also start upgrading their approach. They need to give up on their role as an intermediary and start acting as an institutional platform enabling civic imagination[8].  For instance Làbas as much as any other informal community does not want to incorporate a legal entity. Policymakers could therefore enable the establishment of a special purpose vehicle, a so-called "Friends of Làbas", that would act as a trustee, a shepard, a custodian working for and with the Làbas informal community on a solid and credible project for potential investors (in technical terms articulating the project pipeline) that would embed Làbas values and goals in the proposal to the current owners, raise funds for the acquisition, negotiate the terms of the acquisition from the national publicly-owned company that owns the asset, grant rights of perpetual use to the Làbas informal community. The bylaws of such legal entity should provide the destination to use by the Làbas informal community of the building and grant/secure the right to use to Làbas in perpetuity. This would be a great project on which the Civic Imagination Office should work on.
………………………………………………………………………………………………………………………….
Il panorama italiano dell'attivismo per i beni comuni vede in misura crescente esperienze di comunità locali che si auto-organizzano e avviano negoziazioni immobiliari con i proprietari, pubblici o privati, degli immobili per trasferirne la proprietà nelle mani della comunità. Un recente post su questo blog ha presentato il caso della Cooperativa di Comunità Innesto in Val Cavallina, Lombardia, la quale ha lanciato una campagna di crowdfunding per acquistare dal proprietario pubblico "La Casa del Pescatore". Possiamo osservare altre due esperienze similari nel panorama italiano: a Roma, con il progetto Co-Roma e l'attività della Comunità per il Parco Pubblico di Centocelle e a Milano, con il caso di Macao. Ci sarebbero molte altre esperienze con cui confrontare questi casi, anche a livello internazionale per esempio a New York City con il REIC e in Germania con il Mietzhauser Sindakat. L'articolo si soffermerà, dopo una riflessione introduttiva su approfondimento di questi casi, in particolare l'esperienza di Macao, connettendoli con la recente vicenda del collettivo Làbas (Bologna), e il caso di Mondeggi (Toscana, Provincia di Firenze), che presentano tratti comuni seppur con rilevanti differenze.
[1]  M. D'Ovidio, & A. Cossu, Culture is reclaiming the creative city: The case of Macao in Milan, Italy, in City, Culture and Society, 2016, Vol. 1, n. 6, (doi: 10.1016/j.ccs.2016.04.001)
[2] C. Iaione, The Platform State, available here: www.commoning.city.
[3] Sheila R. Foster, Urban Informality as a Commons Dilemma, 40 U. Miami Inter-Am. L. Rev. 261 (2009).
[4] D. Graeber, The Utopia of Rules, Melville House (2016).
[5]G. Baiocchi et al., Civic Imagination: Making a Difference in American Political Life, Routledge (2014).
[6] Tom Malleson, After Occupy: Economic Democracy for the 21st Century, Oxford University Press, (2014).
[7] R. Bifulco, Diritti e generazioni future. Problemi giuridici della responsabilità intergenerazionale, Milan (2013).
[8] Baiocchi et al., Civic Imagination: Making a Difference in American Political Life, Routledge (2014).