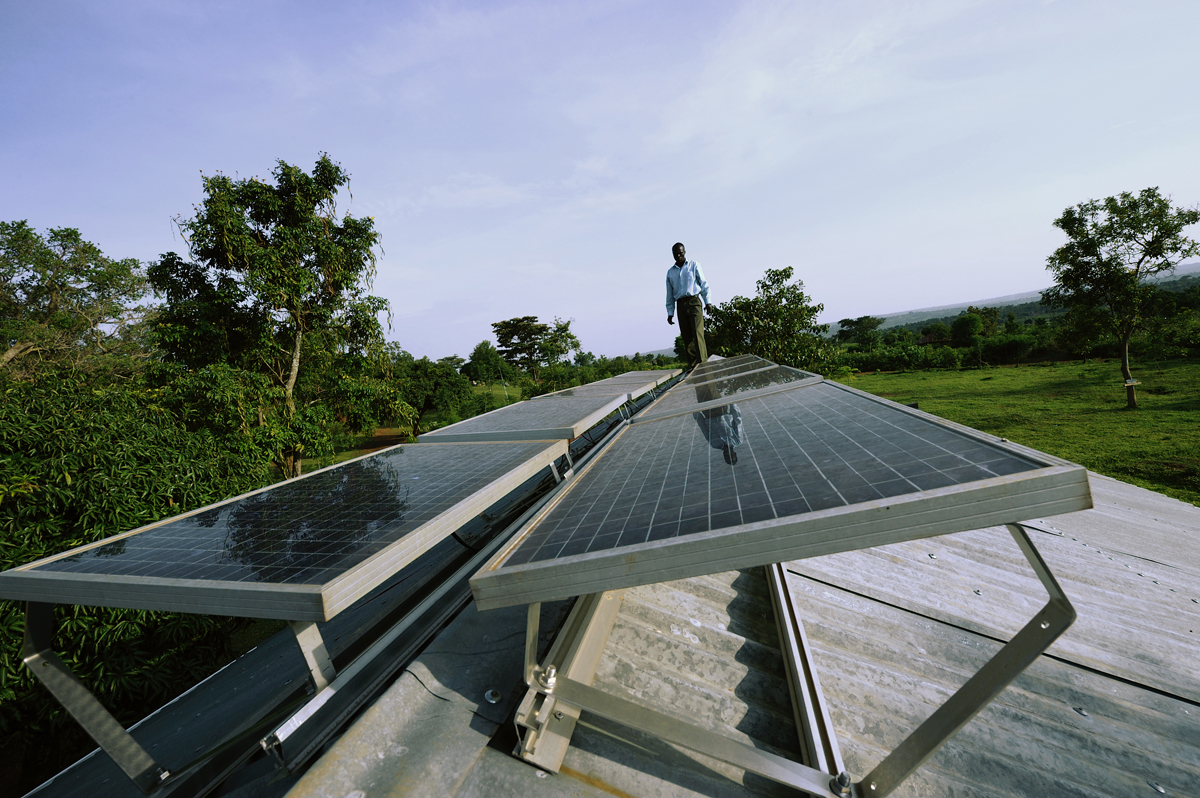 The fact that more than 60 percent of the 1.11 billion people living in SSA are under 30 raises both development potential and energy demand, which current energy systems cannot meet adequately. Extensive research shows that community-based energy systems may be more effective than centralized systems to enhance energy access.[1] There are still few energy communities in SSA, mostly designed to bridge energy access disparities with underlying issues like poverty reduction and health improvement. However, millions of households in the region are beginning to see energy communities as a mechanism to achieve sustainability and resilience.
Energy in SSA has gotten less attention in the literature than in Europe, despite access difficulties due in part to the developing energy infrastructure. Ambole et al. find that the SSA energy projects either lack or do not have enough elements to be characterized as energy communities. The authors studied 19 community energy initiatives to evaluate the obstacles experienced and propose co-design approaches to effectively develop ECs.
Energy communities provide an innovative take on a socio-technical movement that promotes more democratic and participatory energy systems. In the debate on energy democracy and energy justice, it is frequently argued that voluntary methods, stakeholder engagement, participatory governance, cooperation, and local self-organization should be used to increase community involvement and ownership. For example, Omenge et al. argue in a study focused on Kenya that the success of renewable energy projects depends on active citizen participation and interactive stakeholder involvement that should start with project ideation and continue throughout the entire project life.[2] Muhoza and Johnson add that better integration of user perspective during project design, implementation, and assessment can identify possible shortcomings and obstacles of the energy services and tailor them to the local environment.[3]
According to Ambole et al., among the main reasons why energy communities lag in SSA are inadequate stakeholder engagement and citizen participation. Few countries have energy requirements at the local level, encouraging instead a top-down policy engagement, which has been criticized over time as inadequate for democratic energy policy formulation, design, and implementation. Most top-down strategies fail to effectively involve the local communities, only considering them in validation workshops and interviews after project choices have been made.
Other top-down strategies are expert-centered, which means that the communities they are designing for are given little to no input as experts construct energy solutions.[4]
Damien and Frame argue that SSA nations require contextualized community energy initiatives supported by tailored schemes, context-specific know-how, and strong leadership.[5] Research shows that community-managed MGs are a valid tool, in particular for rural areas that fall outside of the main electricity grid. For instance, increased ownership of rural mini-grids has been a key component for broadening the electricity microgrids in Tanzania. Nfah argues that local committees in Cameroon should oversee, run, and maintain installed energy systems and collect funds on a fee-for-service basis to guarantee local stakeholders' profit from the projects.[6]
The following paragraphs aim to draw attention on three aspects. The first is the role of policymaking for the uptake of community-based energy initiatives. The second is the role of NGOs in empowering communities to take a more proactive role in energy self-production. The third is the role of cross-sector collaborations to co-design bottom-up energy solutions.
Nigeria's Policies Fostering Bottom-Up Energy Initiatives
Nigeria operates a fully centralized energy system, primarily using hydropower and thermal power plants, that connects towns and individuals to a single energy source.[7] According to the Nigerian Council for Renewable Energy, power disruptions cost the country 126 billion naira ($ 984.38 million) yearly.[8] The National Energy Policy 2003 has the goal to create energy security through a robust energy supply mix, by diversifying the energy supply and energy carriers.
For the past three decades, the energy market, which is dominated on the supply side by the government-owned PHCN, formerly known as NEPA, has been unable to provide the minimum acceptable standards of electricity's availability, accessibility, and dependability.[9] Nigeria has been implementing policies for the uptake of renewable energy, starting with the Nigeria Renewable Energy Master Plan 2005 and 2012 (NREMP) which offered a legal framework for achieving the goals of maintaining a renewable portfolio standard, establishing, and strengthening regulatory institutions, establishing fiscal and market incentives, incorporating renewable energy into nonenergy sector policies, and standardizing renewable energy products.[10]
The Renewable Electricity Policy Guidelines 2006 was created to guide the government's vision, policies, and objectives to promote renewable sources in the electricity sector. It required the government to increase the country's electricity production from renewable sources to at least five percent of all electricity produced and to a minimum of five TWh.
The National Bio-fuels Policy and Incentives 2007 aimed at using agricultural products to grow and support the domestic fuel ethanol industry. A biofuels commission was established and a regulation on biofuels was issued by the Minister of Petroleum Resources. Furthermore, the policy established a research agency for biofuels and funded R&D. Finally, an incentive program for those involved in the biofuels development sub-sector was implemented as part of the policy's contribution to the regulatory environment for renewable energy.
The National Renewable Energy and Efficiency Policy 2015 is Nigeria's first and only coordinated tool to advance the development of renewable energy sources and raise energy efficiency levels. The national grid's accessibility limitations were acknowledged by the policy, which considered renewable energy as the best way to close the gap. To encourage the growth of Nigeria's market for renewable electricity, the government aims at offering guarantees and financial structures. Between 2014 and 2018, the United States Agency for International Development (USAID) and Power Africa funded the Renewable Energy and Energy Efficiency Project (REEEP).
Then there are also State-level regulations. For example, a net metering scheme for rooftop solar project has been launched in Lagos.[11] Other strategies put in place include mini-grid rules that the federal government has developed to handle concerns including tariffs for developers. Only projects with an energy capacity of between 100 KW and 1 MW are subject to the mini-grid regulation. These are constructive actions in the direction of clean energy power production.[12] The Solar Sisters women-led renewable energy NGO establishes women-to-women networks, recruits, trains, and mentors women to achieve "last mile" distribution for solar devices and clean cookstoves. Almost 2,500 business owners in the Solar Sister network offer services to over 350,000 individuals.[13]
Policymaking coupled with entrepreneurial and social drive has sparked a few community-led energy initiatives. Solar-as-a-service-provider has been launched in some parts of Nigeria in July 2022. For example, Ecoligo (a Berlin-based Impact Investment Provider) supports and equips one of Lagos-based manufacturing company TLM Investment Ltd with a 178 kWp solar system. Now, most companies have started implementing solar initiatives as they learn more about its advantages.[14] Another project is the Sharing the Power project introduced by the Rocky Mountain institute (RMI) in collaboration with Nayo Tropical Technology which is providing energy to peri-urban areas. It has been conceptualized as community-centric mini-grids.[15] In this project, coownership, inclusive governance, benefit-sharing, safeguarding community investment, gender and social inclusion are highlighted.
The Role of Power Africa in Kenya
Power Africa is a US Government-led partnership to convene resources from the private sector, international development organizations, and governments to increase energy access in SSA.[16] In Kenya, the organization supports the development of 779 MW of electricity generation projects.[17] Power Africa advocates for a community-oriented approach to energy infrastructure development, which can support utilities in building capacity and engaging local communities in the energy transition.
To provide community engagement standards to infrastructure project developers, Power Africa published the Guide to Community Engagement for Power Projects in Kenya, which is based on global best practices and their adaptations to the Kenyan context, as well as knowledge and data obtained from civil society organizations, regional administrations, local leaders, and community and religious figures. Power Africa distributed this source as a reference tool to electricity producers, transmission businesses, distribution businesses, and regulators. The guide emphasizes that community consultations are insufficient for meaningful involvement. In fact, all energy project phases must be approached holistically and based on trust and transparency, consent without coercion or intimidation, and fair compensation to affected communities. With Power Africa's support, energy companies evaluate their performance to build institutional and human capacity, including community participation, and develop initiatives that standardize best practices and policies to foster social responsibility in renewable energy production.
Examples of energy projects that center around local communities include the Geothermal Development Company (GDC), which developed a community engagement strategy to reduce project delays and disruptions. Another example is the Kenya Electricity Transmission Company (KETRACO), whom Power Africa supported in completing its Resettlement Policy Framework, which outlines action plans for communities impacted by land acquisition for transmission infrastructure and includes provisions for prompt and fair compensation for resettlement, loss of assets and standards of living. The framework can serve as a policy guide for power transmission projects in East Africa. Finally, Power Africa is guiding, through capacity building, utilities, and other energy sector stakeholders, in developing draft policies on community engagement, land access, revenue allocation, and resettlement compensation to amend Kenya's Energy Act of 2019.[18]
Cross-sector Collaborations in Kenya, Uganda, and South Africa
By investigating case studies from Kenya, Uganda, and South Africa, Ambole et al. looked at how cross-sector collaborations can support the co-creation of trans-local energy communities. The authors demonstrate how energy communities are, at first, context-based, driven by their specific energy challenges. However, because of the complexity of energy issues, partnerships with nonlocal stakeholders are necessary to make the most of resources and skills.
Thus, to create a shared understanding among the local stakeholders, NGOs, policymakers, and academia, the authors explore a transdisciplinary co-design methodology. They created a baseline by gathering information about households and communities via surveys, focus groups, and participatory mapping. They then hosted community discussions, design thinking workshops, and policy seminars for various stakeholders sharing the outputs from the data analysis. The local case studies were then enlarged to a regional scope attaining the trans-local viewpoint. The authors conclude that their co-design endeavor requires a long-term collaborative agenda, best fostered by interdisciplinary academics with a focus on community energy empowerment.[19]
Ambole et al. also state that co-designing the statutory, regulatory, and socio-technical configurations that will support the development of energy communities in various contexts is necessary. In this regard, they suggest that community energy intermediates, such as NGOs and knowledge institutions focused on energy and community engagement, should connect local communities with energy companies and investors who can help them develop and fund energy projects. They can also conduct feasibility studies and offer co-design tools, business services, and policy advice to the community. Finally, intermediaries should support communities with training and foster interaction with decision-makers to ensure that incentive-based regulatory frameworks are developed.[20]
________________________________________________________________________________________________________
References
[1] Rogers, J.; Simmons, E.; Convery, I.; Weatherall, A. Public perceptions of opportunities for community-based renewable energy projects. Energy Policy 2008, 36, 4217–4226.
[2] Omenge, P.M.; Eshiamwata, G.W.; Makindi, S.; Obwoyere, G.O. Public Participation in Environmental Impact Assessment and Its Substantive Contribution to Environmental Risk Management: Insights from Eia Practitioners and Other Stakeholders in Kenya's Renewable Energy Sub-Sector. In Energy and Sustainability VIII; WIT Press: Southampton, UK, 2019; pp. 133–144.
[3] Muhoza, C.; Johnson, O.W. Exploring household energy transitions in rural Zambia from the user perspective. Energy Policy 2018, 121, 25–34.
[4] Ambole,A.; Koranteng,K.; Njoroge, P.; Luhangala, D.L. A Review of Energy Communities in Sub-Saharan Africa as a Transition Pathway to Energy Democracy. Sustainability 2021, 13, 2128. https://doi.org/10.3390/su13042128
[5] Damien, D.P.A.F. Critical Review of the Malawi Community Energy Model. In Proceedings of the IEEE PES Power Africa Conference, Livingstone, Zambia, 28 June–2 July 2016; pp. 78–82.
[6] Nfah, E.M.; Ngundam, J. Identification of stakeholders for sustainable renewable energy applications in Cameroon. Renew. Sustain. Energy Rev. 2012, 16, 4661–4666.
[7] Hussaini, I., Onunze, C., Chiroma, A., Muhammas, S., & Ibrahim, S. (2014). Energy Resources Development in Nigeria: Prospects and Challenges. November.
[8] Council for Renewable Energy (CREN) (2012) Nigeria Electricity Crunch. http://www.reneablenigeria.org
[9] Adenikinju, A. F. (2005). Analysis of the cost of infrastructure failures in a developing economy: The case of the electricity sector in Nigeria.
[10] Hussaini, I., Onunze, C., Chiroma, A., Muhammas, S., & Ibrahim, S. (2014). Energy Resources Development in Nigeria: Prospects and Challenges. November.
[11] https://www.linkedin.com/pulse/shared-solar-gardens-possible-nigeria-jonathan-fawumi-kayode/
[12] https://www.nigeriaelectricityhub.com/2018/10/09/renewable-energy-and-sprouting-issues/
[13] See Solar Sisters (2018). Light. Hope. Opportunity. Available at http://www.cleancooking2015.org/wpcontent/uploads/2015/05/SS-Womens-Enterpreneurship-and-economic-empowerment-1.pdf Also see Manager, C. (2018). Olasimbo Sojinrin. May.
[14] https://ecoligo.com/en/blog/solar-as-a-service-provider-launches-first-solar-project-in-nigeria/
[15] https://www.esi-africa.com/business-and-markets/sharing-the-power-with-communities-led-mini-grids-to-increase-nigerianenergy-access/
[16] https://www.usaid.gov/powerafrica
[17] https://www.usaid.gov/powerafrica/kenya
[18] https://powerafrica.medium.com/engaging-kenyan-communities-in-energy-development-d8b16848e7b4
[19] Ambole, A.; Musango, J.K.; Buyana, K.; Ogot, M.; Anditi, C.; Mwau, B.; Kovacic, Z.; Smit, S.; Lwasa, S.; Nsangi, G.; et al. Mediating household energy transitions through co-design in urban Kenya, Uganda and South Africa. Energy Res. Soc. Sci. 2019, 55, 208–217 Also see Njoroge, P.; Ambole, A.; Githira, D.; Outa, G. Steering energy transitions through landscape governance: Case of Mathare informal settlement, Nairobi, Kenya. Land 2020, 9, 206.
[20] Ambole,A.; Koranteng,K.; Njoroge, P.; Luhangala, D.L. A Review of Energy Communities in Sub-Saharan Africa as a Transition Pathway to Energy Democracy. Sustainability 2021, 13, 2128. https://doi.org/10.3390/su13042128